We
Honor Those Who Served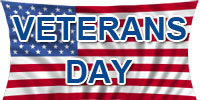 Veterans Day Resources:
Ehrhart, W.D. To those who have gone home tired : new & selected poems

Hass, Kristin Ann. Carried to the wall : American memory and the Vietnam Veterans Memorial

Hillstrom, Kevin. Vietnam War, 1961-1975 -- Motion pictures and the conflict -- Encyclopedias. : The Vietnam experience : a concise encyclopedia of American literature, songs, and films

South Carolina ETV. The South Carolina Vietnam memorial [videorecording]
Ms. Mary Hendrix

(

Media Specialist

)

, salutes veterans of today and yesterday.
EXERCISE YOUR RIGHT TO VOTE!
Election Day....November 6
Election /

Presidential

Resources:
Gray, Lee Learner. How we choose a President : the election year.

Hillygus, Sunshine D. The persuadable voter : wedge issues in presidential campaigns.

Kane, Joseph Nathan. Facts about the presidents : a compilation of biographical and historical information.

Kessel, John H.

Presidents, the presidency, and the political environment

Lanoue, David J. The joint press conference : the history, impact, and prospects of American presidential debates.

McCaffrey, Paul. U.S. election system.

Mari, Christopher. The American presidency.

Owen, Diana. Media messages in American presidential elections.

Samuels, David J. Presidents, parties, and prime ministers [electronic resource] : how the separation of powers affects party organization and behavior.

Scott, Thomas G. The pursuit of the White House : a handbook of presidential election statistics and history.

Shull, Steven A. Explaining congressional-presidential relations : a multiple perspectives approach.
Hurricane Safety Tips for College Students
Michelle V. Agins/ The New York Times
Hurricane Sandy, Day 8: 113 Dead

Hurricane Sandy has support from people helping victims of the storm

and

fixing

what the storm has broken.
November is American Diabetes Month. Today, nearly 24 million Americans have diabetes, and thousands more are diagnosed each day. Change your lifestyle today so that you will not become a part of the world's diabetic statistics.
Barnard, Neal. Healthy eating for life to prevent and treat diabetes.

Feudtner, Chris. Bittersweet : diabetes, insulin, and the transformation of illness.

Lilly, Eli. People with diabetes can enjoy healthier lives! [videorecording].

Matthews, Dawn D. Diabetes sourcebook : basic consumer health information about Type 1 diabetes (insulin-dependent or juvenile-onset diabetes), Type 2 diabeted (noninsulin-dependent or adult-onset diabetes), gestational diabetes, impaired glucose tolerance (IGT), and related complications.

Petit, William. The encyclopedia of diabetes.

Reed, James. Living with diabetes : a guide for patients and parents.
National Alzheimer's Awareness Month
Alzheimer is a slow progressive disease that destroys the memory and thinking skills. 5.4 million Americans are living with Alzheimer's disease. One in eight older Americans has Alzheimer's disease.
Alzheimer Resources

:
Ballenger, Jesse. Treating dementia : do we have a pill for it?

Becker, Robert. Alzheimer disease : from molecular biology to therapy.

Ennapadam, S. Dementia [electronic resource] : a global approach.

Judd, Sarah. Men's health concerns sourcebook : basic consumer health information about wellness in men and gender-related differences in health.

Klerk-Rubin, Vicki de. Validation techniques for dementia care : the family guide to improving communication.

Read, Catherine. Aging, biotechnology, and the future.